I love going to Europe. Sitting in cafes, watching people and sipping Americanos, waking up early in the morning and strolling through empty cobbled streets, eating wonderful food and not paying attention to its caloric content (I was in the 8% zone of my diet), going to museums almost every day, seeing things I have not seen before…. It recharges my spiritual batteries. Some people go to religious institutions of their liking; I go to Europe. This time around I was for the first time joined by both of my older kids, Jonah (21) and Hannah (16), as well as Molly (Jonah's girlfriend). 
Hannah and I flew to Amsterdam, then took a train to The Hague. We spent an afternoon with Wim Hof, also known as "the Iceman." Wim holds a few dozen Guinness World Records doing insane stuff in extremely cold temperatures: swimming under ice, running a half marathon barefoot on ice, climbing Mountain Everest in his shirt, barefoot, etc. Wim's biggest achievement is training his mind to control his body, and as he told us many times, "Mind is the most powerful drug of all." Thanks to Wim I take cold showers daily. I also do his breathing exercises a few times a week (I do them using his app, but you can also do them here). 
The most important part of his story is that Wim went through a spiritual rebirth when in his 30s he lost his wife to suicide. He had little money and four kids to take care of. This pain led him to rediscover himself and then, eventually, to international stardom. Now, he is changing millions of lives for the better
What really amazed me was the warmth with which the Iceman treated Hannah and me. Wim and I had communicated in the past, and he read my book Soul in the Game, was touched by it, and even endorsed it. But we had never met. He greeted us as though we were his old friends, with warm hugs. International fame has not gone to his head. I am used to people I admire disappointing me; this was anything but the case.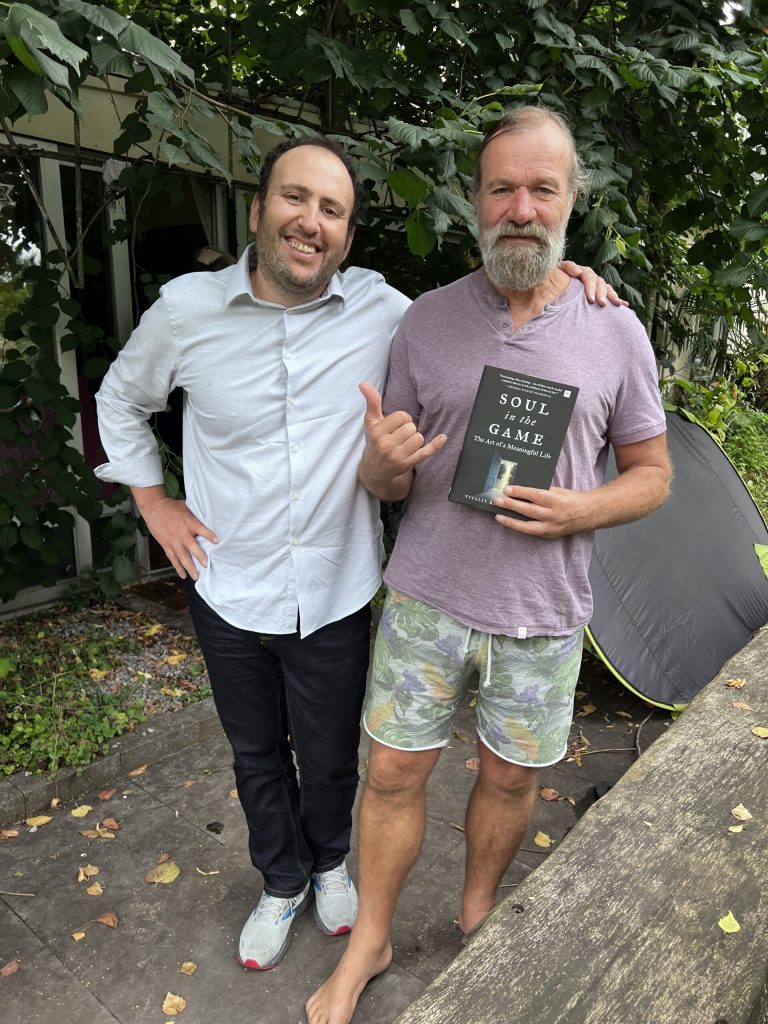 In The Hague, Hannah and I spent the rest of the evening strolling the boardwalk by the sea (De Pier Scheveningen). The boardwalk alone is worth traveling to The Hague for – a lot of restaurants and attractions located on the sea. 
The next morning we spent at Mauritshius, a small museum that houses some wonderful paintings, including Vermeer's Girl with Pearl Earrings, a painting you have to see in real life to fully appreciate it – Vermeer's custom-made paint doesn't show up in photos.
The following two days we spent in Amsterdam – the Venice of Northern Europe. We did all the typical touristy things – walked the streets and ate french fries dipped in mayo for lunch, took boat tours on the Amstel, rode bikes, relaxed in the park. We visited the Van Gogh Museum. Hannah thought we'd spend 30 minutes there. To her surprise we spent two hours and we had to leave because the museum was closing. 
Then Hannah and I flew to Zurich, where we were met by Jonah and his girlfriend Molly. We rented a car and our Swiss-French-Italian adventure began. 
Here is the map of our journey: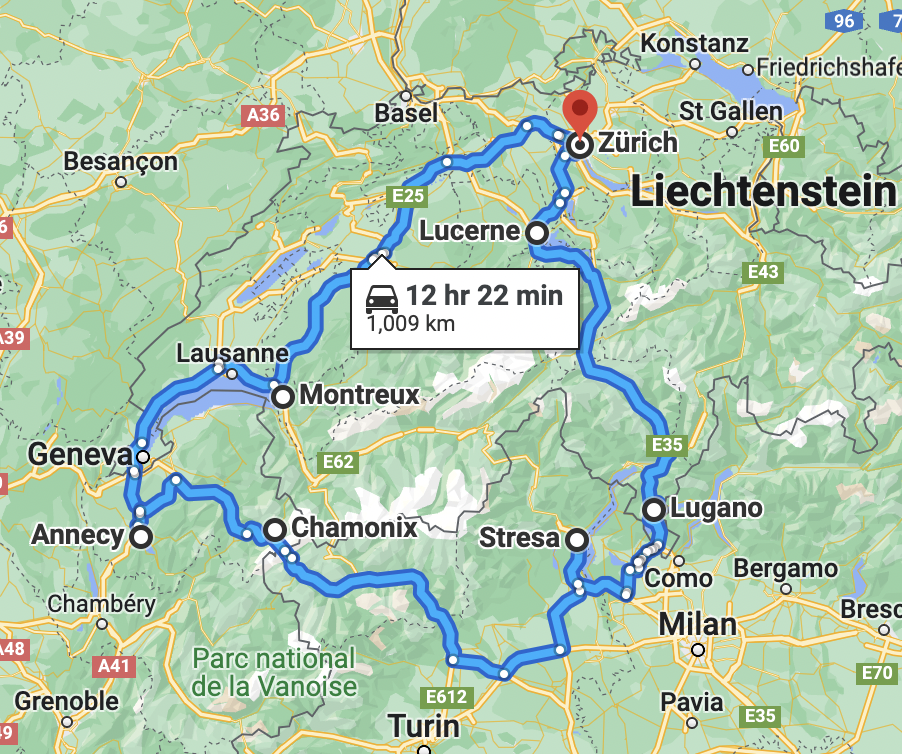 We stopped in Bern for lunch and spent the night in Montreux – a gorgeous little town on Lake Geneva. As we were walking by the lake we started seeing statues of famous musicians, and then it hit me, this was where we'd find the statue of Freddie Mercury, featured on his last, posthumous album, Made in Heaven. 
Queen had a studio in Montreux, which we did not get to visit (left it for next time) because we had to hurry to our next stop – the Charlie Chaplin Museum. 
Interesting factoid about the creative process: Chaplin shot over 400,000 feet of film for a final film length of 5,250 feet. Editing is creating. 
This was the second time I had visited this museum – after the first visit I dreamed about bringing my kids there. 
We had lunch in Lausanne. Our next stop was the Patek Philippe Museum in Geneva – the least interesting museum we visited. But I learned an interesting fact. The Swiss should thank the birth of their watch industry in the 16th century to the religious establishment headed by Jean (John) Calvin, which banned the wearing of ornamental objects (i.e., jewelry), forcing goldsmiths and jewelers to turn to a slightly different art – watchmaking. 
We spent the evening in the little magical medieval French city Annecy, located on gorgeous Lake Annecy. We walked the streets of Annecy, the kids mesmerized by the sudden medievalness of the city. We got up early in the morning, had breakfast, rented a boat, and swam in the lake. The boat renting experience was surprisingly easy. We gave the boat rental place my driver's license, and three minutes later, after some brief instructions, we were in the boat. We did not have to fill out a five-page application, initialed in 12 places (maybe our US legal system is a bit too litigious). 
The next morning we drove to Chamonix, the French ski resort located at the foot of Mont Blanc, home of the 1924 Winter Olympics. Parts of Chamonix look like a typical Swiss ski village (Klosters or even Vail, Colorado come to mind here), while other parts remind of you of Paris. Very early the next morning we took a gondola up to Aiguille du Midi (translated from French, "Needle of the Mid-Day"), which is three miles high. All of us are Mile High veterans (Denver sits a mile above sea level) but we were lightheaded. The kids unanimously agreed that seeing Mont Blanc was the highlight of the trip.
After Chamonix we headed to Stresa, an Italian town of 5,000 on Lake Maggiore. We had gone from Switzerland to France and were now into Italy in less than three days. Often we could not tell what country we were in. We had to look for clues – whether the gas station was taking euros or Swiss francs, or which telecom provider was displayed on our phones. Stresa, however, had a distinctly Italian feel. It had Italian warmth, bright colors, and architecture. The people were a bit warmer and friendlier, too.
We spent the night there, and after a morning walk, went to Lugano, one of my favorite towns in Switzerland. Though it is located in Switzerland, almost everyone speaks Italian. The only reason you discover that you went from Italy to Switzerland is that prices in restaurants and grocery stores are quoted in Swiss francs and are instantly doubled. We stayed in a hotel in a picturesque small town, Morcote, 15 minutes outside of Lugano. In the evening we went out on the streets of Lugano and were mesmerized by its beautiful lake. Lugano has its own microclimate –you see lots of palm trees there. In the morning, after breakfast we rented a boat and went swimming again. 
We said goodbye to the Italian side of Switzerland and drove to Lucerne, a city located on Lake Lucerne, in the German-speaking part of the country, though we found almost everyone we encountered spoke fluent English. We spent the evening strolling Lucerne and the next morning drove to Zurich.
After we dropped the rental car off, we went straight to one of my favorite museums in the world, the Kunsthaus. It has a wonderful collection of Impressionists. I was surprised by how much the kids enjoyed the museum. When Jonah was in his early teens he used to walk through museums as though they were a train station or airport, spending little time to look at the walls, mainly looking for the exit. Now he is enthralled by the art. I used to have to bribe the kids with sweets to go to museums; not anymore (the bribery is paying off).
We concluded our trip with dinner with my friend Guy Spier and his family. Jonah is doing an internship for the next two weeks at Guy's firm and will be staying with Guy's family.
In preparation for the internship, Guy gave Jonah half a dozen books to read, including his own (I reviewed Guy's book here). Another book Guy sent to Jonah was my friend William Green's Richer, Wiser, Happier. In this book William interviews a few dozen accomplished value investors. His book is as much about successful, accomplished people sharing their views on life as it is about value investing. Jonah was reading it on the longer stretches of our drive around Europe, and we discussed it. It is a perfect book for Jonah to read at this point in his life.
As I am looking back at this trip, it was really not about Europe, the lakes, the ice cream that we had every evening, or the museums. The best experiences were the conversations we shared while we strolled the streets or had over dinner. This trip was really about shared experiences, about spending time with your kids and maybe seeing the world through their innocent eyes. It was Hannah's first time in Europe, and I cannot tell you how many times, mesmerized by what she saw, she stopped me, gave me a huge hug, and said "Dad, thank you so much for this!" I'd look back at her and say, "No, Hannah – thank you!